This website uses cookies for essential functionality and tracking usage. Click
here
to accept our
Cookie Policy
.
Evolis Pebble Card Printer
Purchase here from our webstore or contact us via our contact page.
More Powerful, More Aesthetic, More User-Friendly

In a strong position after its established years in existence, the Pebble changes line, gains in power and performance and achieves an unbeatable finish.

With a quality/price ratio that outdoes all competition, the Pebble is displayed as the reference single face colour printer on the market.
Printers
The following printers are available:
Basic Evolis Pebble printer
Evolis Pebble Mag printer with dual HICO/LOCO magnetic stripe encoder
Smart printer with smart card contact station
Evolis Pebble Contactless MIFARE® printer with coupler for MIFARE® Contactless cards
Printer options
The following options are available:
Three colours: Ruby, Lagoon and Glacier
Mag Option
Manual Card Feeder Option
Printer accessories
The following accessories are available:
Additional Card Feeder Kit
Travel case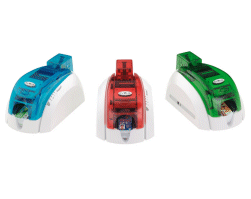 ---