This website uses cookies for essential functionality and tracking usage. Click
here
to accept our
Cookie Policy
.
Buy RBNNC201YMCKK410
Full colour YMCKK Ribbon with 2 resin black panels (410 images) NiSCA PR-C201 and Javelin J1000i Retransfer ID Card Printer
Most items available from stock and delivered on a next working day service

Our Price: £150.00
List Price: £180.00
CONTACT US FOR STOCK LEAD TIME click here
---
The NiSCA PR-C201 Retransfer Card Printer and Ink Ribbons
The NiSCA PR-C201 retransfer ID card printer with 600 dpi. print quality offers clear printing of letters and photos. Encoding options available.
This Retransfer Card Printer is made with the best technology and expertise of NiSCA, allows for higher-grade, high-speed, clear printing of both letters and images. It can print 145 cards/hour (single-side, full-color), which is among the highest in the industry.
Usually from stock and available on a next working day delivery service and with Windmill Technical support.
Order your NiSCA Card Printer and ribbons below or send us a message via our contact page.
Retransfer Card Printer-Product Specifications
The PR-C201 uses the retransfer card printing method, where printed images on the film are transferred onto the card. This method enables the machine to print not only on cards made of PVC but the following types of cards too: (Please print in advance to check the printability.)
Cards made of PVC, PET-G, PET, etc.
Cards with uneven surfaces such as IC cards
Cards with thickness of 0.25 mm to 1.0 mm
General-purpose IC Cards such as FeliCa or MIFARE® cards (Special encoder (not included in this product set) is required.)

Continuous Feeding of 250 cards: PR-C201 comes with a card feeding cassette that can store up to 250 cards, eliminating the need for frequent refilling. The card exit stacker can also store up to 250 cards.
Product Features
Clear printing of letters and photos with 600 dpi.
Environment: Compliant with RoHS and Green Purchasing Law.
Network Compatibility: Compatible with Ethernet.
Standard Driver: Supplied with Windows Standard Driver.
Interface: Equipped with USB2.0, and Ethernet (100Base-TXe)
Built-in encoders: An optional magnetic encoder, contactless IC encoder, and contact IC encoder can be built into the printer together.
Advanced Security: Data is encrypted in the case of printing via a network (Ethernet). IPsec Protocol prevents unauthorized access. The card feeding cassette and the card exit stacker are stored while attached to the printer. A security wire lock can be attached. An option key lock prevents theft of cards and ribbons.
Easy Operation: The newly designed card feeding cassette (capacity of 250 cards) and the ribbon (500 images) reduce the frequency of refilling. Cards can be refilled during printing. The cassette system enables easy replacement of ribbons. The adjustment dial of the card cassette allows for one-touch adjustment of card thickness. The simple card track allows for easy cleaning.
See other products in this category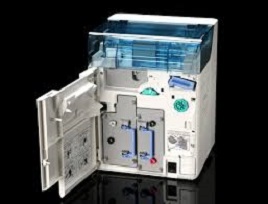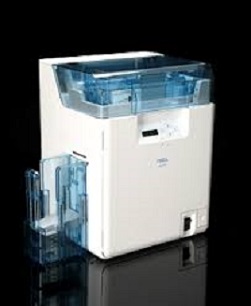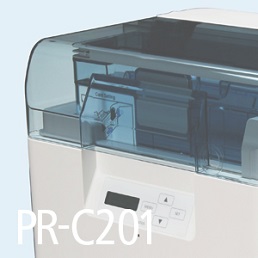 Downloads
---