This website uses cookies for essential functionality and tracking usage. Click
here
to accept our
Cookie Policy
.
Buy HHR-3166-WH
Cypress Wireless Handheld Reader kit - (formerly WMR-3261/3262) Kit Includes: (1) high/low-frequency (13.56 MHz/125 kHz) handheld reader unit in dock HHR-9066-WH, (1) charger HHR-RCHL, (1) Base Unit with 1 Wiegand output HHR-6300. Format: HID Prox, Indala Prox, EM4102, AWID Prox; ISO14443A/B ISO15693, FeliCa™ (IDm); MIFARE Classic® MIFARE DESFire® 0.6, MIFARE DESFire® EV1, HID: iCLASS® Standard/SE/SR/Seos; PIV II, Secure Identity Object® (SIO®). AES encryption optional - 500 ft range - Handheld dimension 6.8″ x 3.6″ x 1.6″, 1.0 lbs - Uses Cypress proprietary and secure Suprex® wireless network. Colour: WHITE N.B. CUSTOMER TO SPECIFY UK, European, American Or AU plug.
Most items available from stock and delivered on a next working day service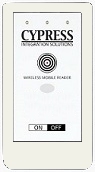 £2,955.56
CONTACT US FOR STOCK LEAD TIME click here
---
Cypress Wireless Mobile Handheld Reader (HHR) - Cypress Integration Solutions.
Wireless Mobile Handheld Reader with new wireless Agile Access Control Technology (AACT). HHR-3156-GY, HHR-3162-GY.
Windmill Computing supplies Cypress Integration Solutions products to customers in the UK, across Europe and Worldwide, as part of our extensive ID card systems portfolio.
Purchase from a selection of handheld readers below or contact us here for details.
HHR Series Mobile Handheld Reader. Overview:
Handheld data collection devices have existed for years in many industries. The AACTivate mobile reader is unique in that it maintains a dedicated, live connection to the access control or security database at all times. Since credential data is not stored on the handheld reader, it allows instant verification of current credentials.
The mobile capabilities of the AACTivate handheld reader allow access control in spaces where it is otherwise difficult to check identification, such as at construction sites, or aboard buses.
With the demand for physical security increasing worldwide, the AACTivate mobile reader provides an additional layer of security, enabling random spot checks in places fixed readers may not reach, either indoors or outside.
The handheld unit's relay controls can additionally be programmed to empower security officers, allowing relay discretion in ingress/egress applications, as well as possible duress notification.
Available Now! Cypress Wireless Handheld Reader kit with wireless OSDP Secure Channel AES-128 Encryption
---