This website uses cookies for essential functionality and tracking usage. Click
here
to accept our
Cookie Policy
.
Buy PRNJ1000I
NBS Javelin J1000i Colour Re-transfer Card Printer, Dual Sided, USB & Ethernet. This ID Card printer conveniently fits on the desktop or under the counter. Offers over-the-edge print on CR-80 cards,High durability, low maintenance, User-friendly, LCD Control Panel. - - Retransfer printing at 600 dpi. - -Highest image quality available. - - Single and double sided printing. - - Full colour brilliance as well as full bleed images . - - Thermally transfers image and film onto card surface
Most items available from stock and delivered on a next working day service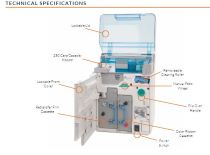 Our Price: £2,880.00
List Price: £3,745.00
CONTACT US FOR STOCK LEAD TIME click here
---
Javelin® ID Card Printers including the DNA PRO and J800i, J1000i Retransfer printer
Javelin card printers including the DNA PRO, J800i Retransfer, J1000i, NBS laminator, consumables and accessories.
Windmill Computing is an Authorised Dealer for the Javelin range of card printers from NBS Technologies so can support your Javelin card printer! With over 25 years experience and team to assist you.
ID Card Printers and consumables are available on a next day service. Simply contact us here or select from the menu to order.
The DNA PRO Card Printer offers 30 months Warranty and upgradeable security or encoding features can be added at a future date. Click here to Purchase.
Good news! The Javelin J230i/J200i ribbons and cleaning consumables are fully compatible with the Javelin DNA/DNA PRO card printer. Upgrade today.
Javelin J1000i™
ID cards printed on the Javelin J1000i™ are of the highest image quality available.The J1000i high speed, high resolution retransfer technology allows for full colour brilliance as well as full-bleed images. Buy here
For card printers or ribbons simply message our sales team here.
To increase card durabilitry and security add the New NBS Laminator to your ID Card Printer!.
Our own Card Design Software package,vivID card manages the creation of card designs and printing of batches of cards! Buy vivID card with confidence and our technical support team on hand.
The J800i Retransfer Card Printer is exceptionally reliable, which means less printer downtime. It carries a lifetime warranty because the printhead never comes in contact with card surfaces or debris, it's never damaged in the printing process. Peace of mind for you!,
Javelin DNA or DNA PRO Card Printer



Auto-feed
Single and/or dual-sided printing
Full colour and/or monochrome


Single-feed
Single and/or dual-sided printing
Full colour and/or monochrome
Choose manual or auto card feeding, single or dual-sided printing and decide if you need Card design software. Ribbons can be full colour or monochrome and you have yourself a complete desktop card printing solution.
Along with Javelin®, we offer a wide ID Card Printer range including; Evolis, Magicard, Zebra, NiSCA, Datacard, Dai Nippon, Fargo and more. Often available on a next day service.
Video: Javelin DNA Card Printer Series
Javelin Card Printer Servicing
We also offer related printer services such as support, printer servicing and ( the Hotswap scheme) repair and the development of bespoke printer-related software.This means applications to encode chips or magnetic stripes while also printing the cards.
See other products in this category
---